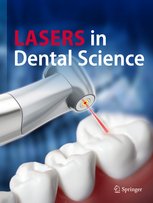 Editor-in-Chief: Norbert Gutknecht
ISSN: 2367-2587 (electronic version)
An international forum for publication of articles, reviews and reports on the continuously expanding field of lasers in dental care and treatment.
Covers a range of specialties from Operative Dentistry to Orthodontics and Implantology to Aesthetic Dentistry
Presents papers on basic laser–tissue interactions; photobiomodulation; low-level laser therapy; and TMJ disorders and pain management
This journal offers a vehicle for articles and discussion of experimental, preclinical, and clinical aspects of dental laser applications. Covers dental application of new lasers, laser-tissue interaction, treatment of TMJ disorders and TMJ pain management.